Svalbard 2015 – Day 10: Fox cubs
On the morning of the 9th day of the seajourney with MS Origo we arrive at the glacier Lillehöökbreen, among other things hoping to come across walrus. Unfortunately we find no walrus, but the light is lovely, and we get some landscape shots.
While we pass in front of the glacier, Morten spots a bird he's been hoping to see for the whole trip, the elusive Sabine's gull. I get some shots fired off before it takes off, but they're not really useful for anything other than documenting I saw it. It was a beautiful bird, though.
Meanwhile, I shot some more Fulmars.
We continue south, entering Kongsfjorden. Just after lunch we pass Ny Ålesund. Ny Ålesund is the second northmost permanent civilian settlement. I thought Longyearbyen looked a bit depressing, but it's easily beaten by Ny Ålesund.
We arrive at Ossian Sars mountain and the bird cliffs there in pretty poor weather. The wind is picking up, and there's periodic rain. Doing a zodiac cruise past the Krone glacier some of us get pretty wet on the way back from the seaspray. Even so, the guys in the zodiac I'm in decide to check out the bird cliffs again anyway. That's when we spot the Arctic fox cubs at the foot of the mountain. The light isn't great, and the background is pretty boring. The miss rate is staggering from shooting small targets a good distance away from a zodiac in waves 🙂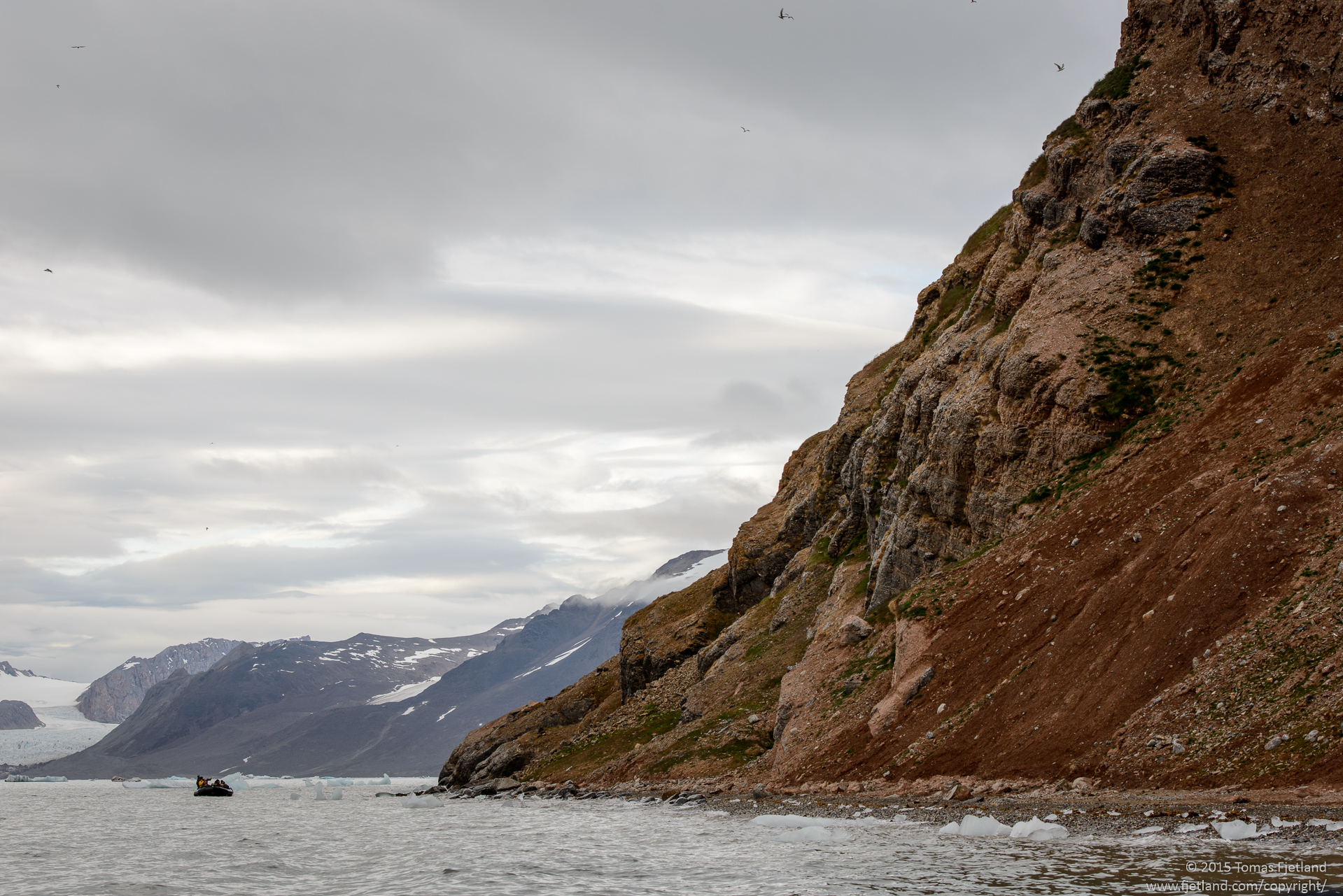 This is how we were photographing the foxes under the bird cliff. Difficult conditions in a zodiac and wind and waves.
But I'll post some of the shots here anyway 🙂