NAS stories – prologue
Recently my trusty old main NAS, Teletraan1, started experiencing some problems. I figured I'd write down the issues and the process of choosing and setting up a replacement, to use as a background for another post on backing up your data, and also to remind myself of my considerations should I need to do a similar choice in the future.
The demise of my digital brain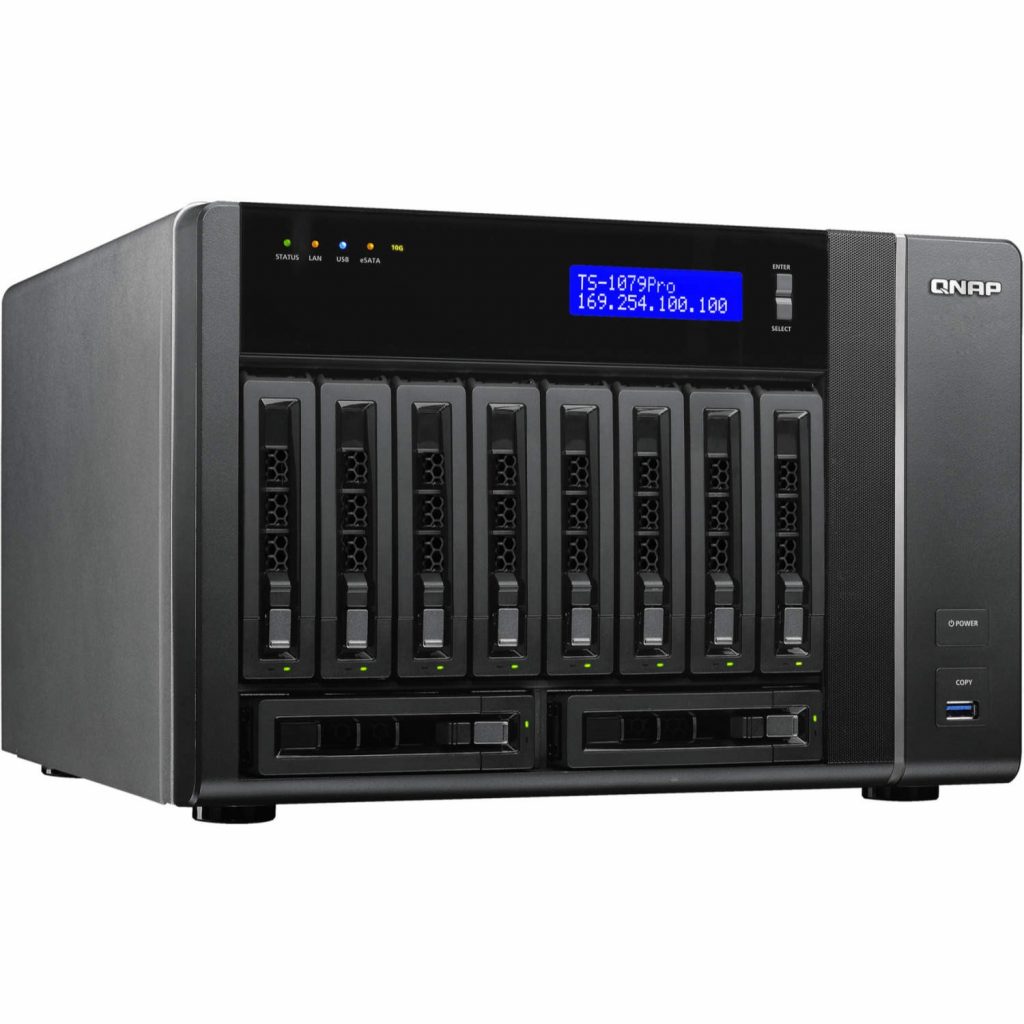 A little while ago my QNAP TS-1079 Pro which has served me faithfully for nearly a decade as my main NAS, started complaining that it had lost the disk in bay 7. This would be the first time a disk in this unit died since I set it up, and it's been running 24/7 without spindown for the whole time (I ran my vSphere virtual servers using it as shared storage). A tribute to the lovely HGST 4TBs, I suppose. No worries, since I fairly early on had swapped out one of the 10 disks for a SSD to use as a cache drive, I had a spare disk in a drawer. So I replaced the drive, and it rebuilt the raid to that drive and all seemed well. For about a day. Then I got the same error. Hmmm… well, the disk *had* been used for a while, then left in a drawer for 8 years or so. Some HDDs don't like that. So I bought a 4TB WD Red, mounted it to the caddy and inserted it. Same error.
So I used the excellent Helpdesk app on the QNAP to open a support ticket, and after a bit back and forth the support tech said it was most likely a problem with the backplane – possibly the motherboard. I inquired about a replacement backplane, but while I didn't get a clear answer, it seemed none were available to purchase. After a brief look at eBay, AliExpress, etc, I started accepting that the safest option with the least downtime was probably to replace it.
I had already started thinking about this, but of course, the timing wasn't ideal. It never is, is it? However, since this is my main storage for everything in my digital life, I couldn't risk running it in this degraded state for too long either. With RAID6 I could only afford to lose one more drive.
The requirements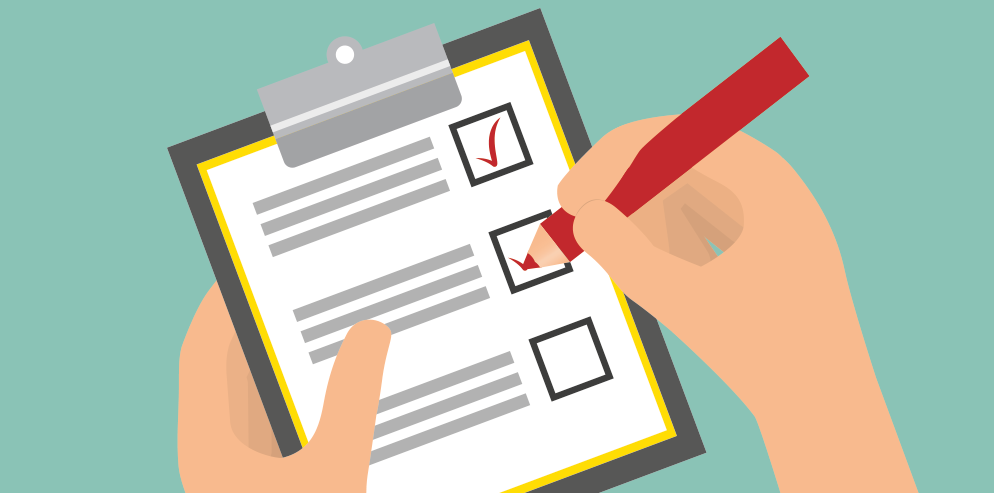 My needs for my main NAS are quite simple, but unfortunately also quite diverse. On one side it needs to hold large volumes of data: Various backup sets from my client computers, backups of my VMs, some repositories of various rubbish, media files including my ripped Bluray and CD collection, and of course personal files, photos, etc.
On the other, it has to serve as shared storage for my running VMs in my home lab. This demands some IO performance, but it doesn't make up a lot of data. maybe around 500GB currently.
For a while, I considered a separate unit for the high-performance stuff but I already have more than enough units spinning away in my computer room, generating both heat and noise.
Narrowing down the options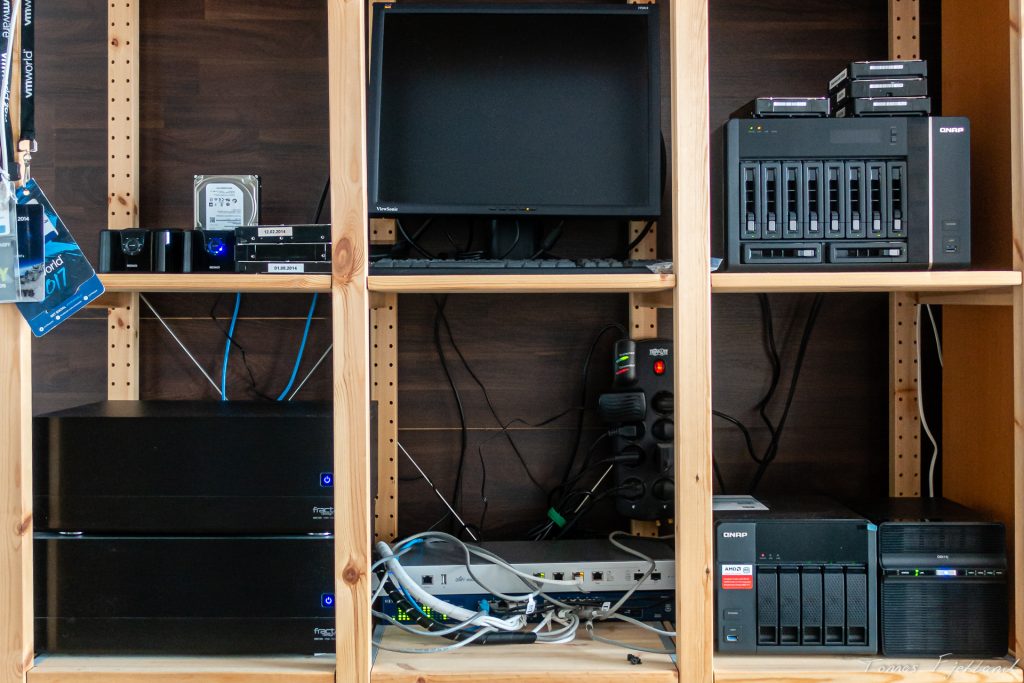 A long time ago I used to run my own fileservers with assorted types of software- or hardware raids, but after failures of different kinds and the headaches of trying to sort them out and recover data, I decided this was not what I wanted. At the time I also did enterprise storage at work and felt I had enough of dealing with storage there 🙂
When the first types of SOHO-style NASes as we know them today appeared, I figured this would be the perfect solution for me. A standardized, tested and verified hardware and software combination that is being run by hundreds or thousands of others and with a support organisation to lean on. Since then I've been through units from Infrant (later Netgear), Synology and QNAP and have generally been very happy with this approach.
So when looking to replace the TS-1079 Pro, it was natural to look at the offerings from Synology and QNAP.